Disqualify Peter Obi Over Involvement Of Toddler In Rally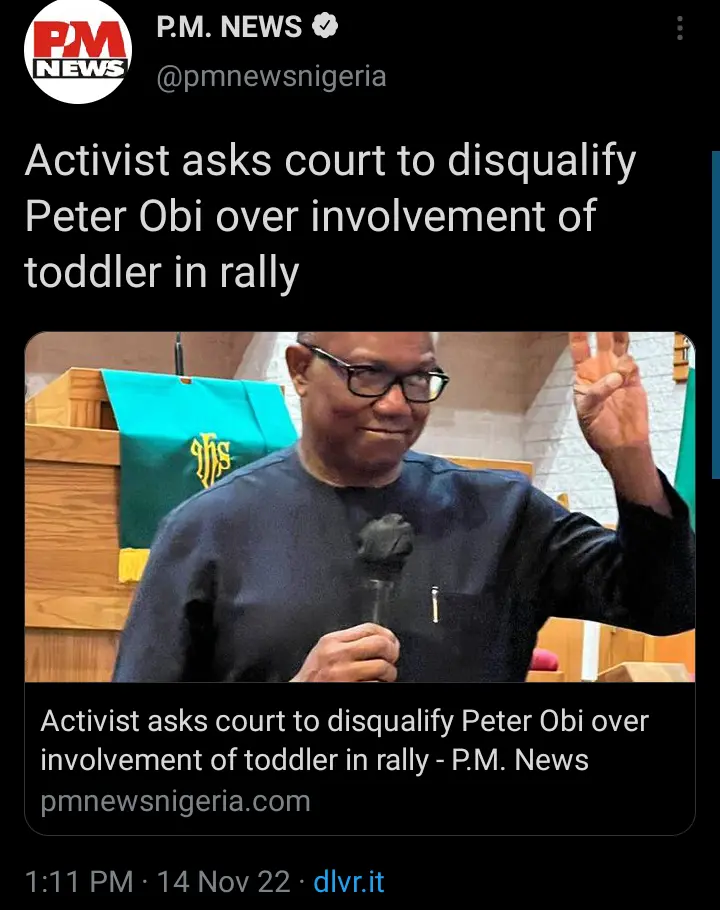 A child right activist, Amb. Wale Ojo-Lanre, has asked a family court in Ikeja, Lagos State to disqualify the Presidential candidate of the Labour Party, Peter Obi for allegedly involving an underage girl-child in his political rally in Lagos.
He also asked the court to compel Peter Obi to pay for N50 million as damages for involving the underage girl-child in his political rally.
The News Agency of Nigeria (NAN) reports that Ojo-Lanre, had on Oct. 27 filed the originating motion on notice before a family court in Ikeja High Court.
Wike Invites Buhari, Obi To Inaugurate Projects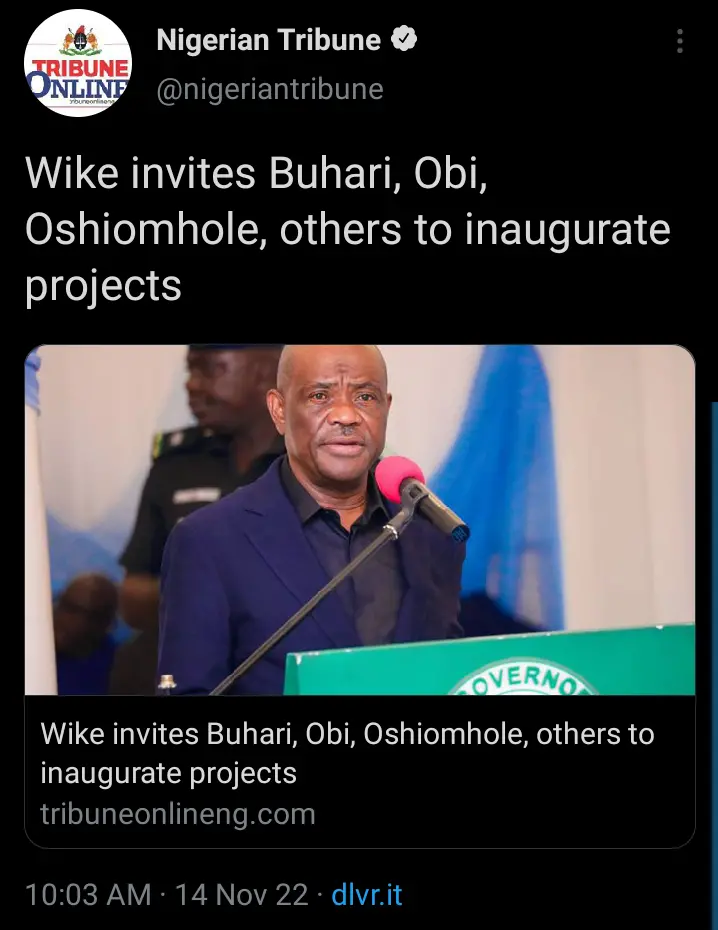 President Buhari and the Presidential candidate of the Labour Party, Mr Peter Obi are top of the list of personalities invited by the Rivers State Governor Nyesom Wike for another round of commissioning of projects in Rivers State.
According to the itinerary of events made available to Tribune Online, Monday, November 14 to Friday, December 2 have been slated for another round with major leaders of various political parties expected in Rivers State including the President, Muhammadu Buhari, Peter Obi, the Labour Party, Presidential candidate, former National chairman of the All Progressives Congress (APC), Adams Oshiomhole as some of the projects.
Sixteen completed projects, including world-class multi-billion health and educational projects, are billed for this round of commissioning by Governor Wike who was recently conferred with a Distinguished Award in Infrastructure by President Buhari.
Kanu Absent As Court Adjourns Trial Indefinitely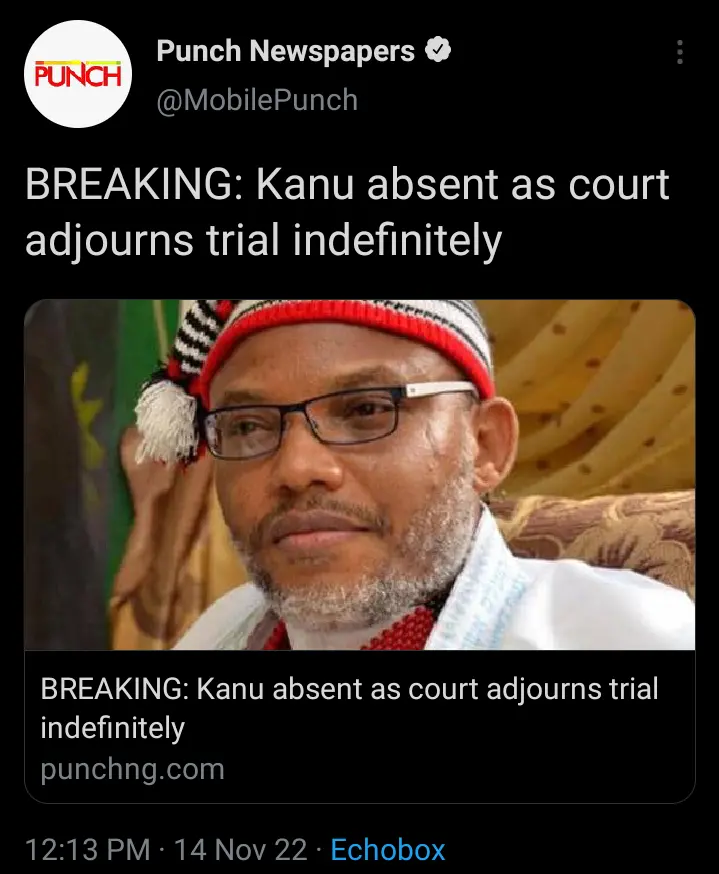 A team of government prosecutors led by the Director of Public Prosecution, Mr. M.B. Abubakar, on Monday alleged that the detained leader of the Indigenous People of Biafra, Nnamdi Kanu, refused to present himself before the Federal High Court in Abuja for his planned re-arraignment.
"As of last week, the defendant was intimated of this sitting and he did not object. However, when I called the office this morning, I was informed that the defendant woke up and declined to come to court.
"All entreaties and pleas were made but he refused to come to court", the government lawyer told the court.
All State Capitals To Be Connected By Rail – Minister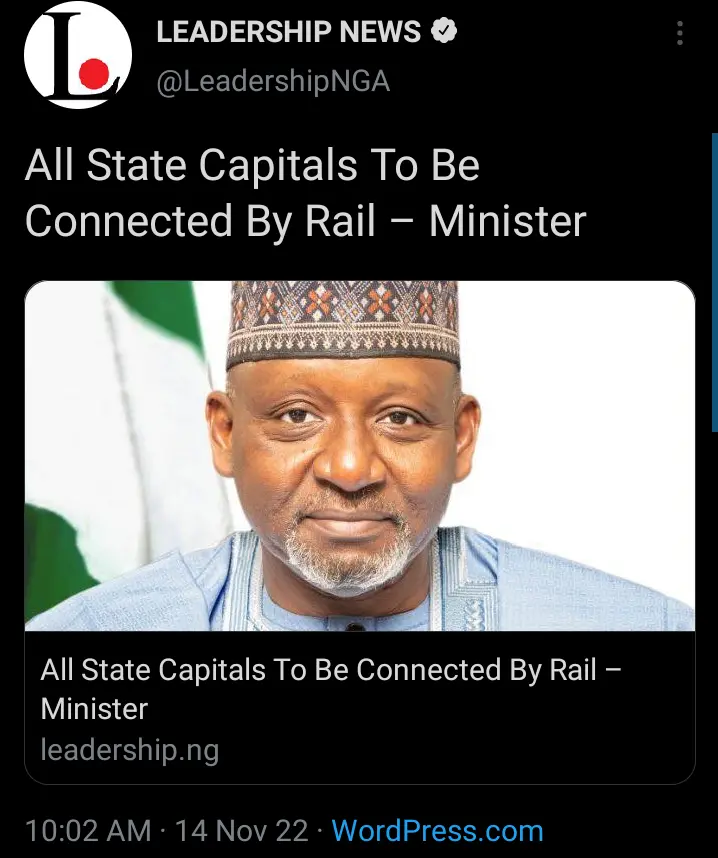 The federal government, yesterday, disclosed that all state capitals in the country will be connected by rail.
This was disclosed by the minister of Transportation, Engr Mu'azu Sambo, at the 20th Convocation Ceremony of Igbinedion University, Okada.
Sambo, who deliveref a speech on behalf of Vice President Yemi Osibanjo assured Nigerians that the Rail Modernisation Programme would connect every state capital in Nigeria.
The minister inferred that the President Muhammadu Buhari-led administration's agenda of infrastructural development and social inclusion has not left Edo state behind.