Following the speech made by the Chief Justice Of Nigeria during the banquet meeting held in Port Harcourt by Nyesom Wike, Reno Omokri, who is a political activist has reacted to the speech via his verified Twitter handle on Friday 25th, November 2022.
According to the post Reno Omokri made, on his verified Twitter handle, he said," How would the Chief Justice Of Nigeria go to Rivers State, and publicly praise Nyesom Wike, Seyi Makinde and the G5 Governors? If Atiku wins and Tinubu challenges Atiku's victory, can the Chief Justice Of Nigeria be Impartial in judgement after this comments".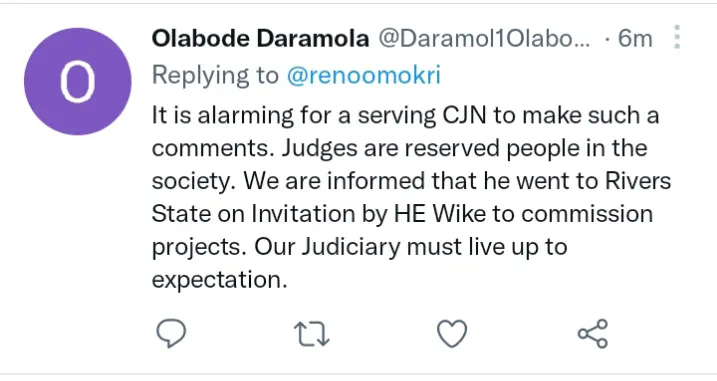 However, some Twitter users had also used the space to comment to this post. According to one Twitter user, he said, "Atiku brought the PDP down in 2015, it is so painful to see you campaign for him and what the Chief Justice Of Nigeria said, is right, he deserves to speak out in this time".
Another Twitter user also said that it is alarming for a Chief Justice Of Nigeria to make such a comment. Judges are reserved people in the society.
Source: Twitter